Is there truth to too many yoga teachers?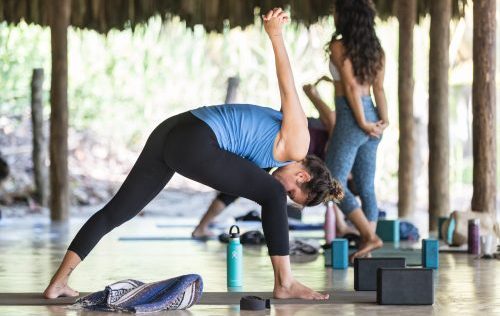 There have been a few instances in my recent life that when I tell people I love teaching yoga, they give me this skeptical look.
That look that says "but yoga is everywhere (aka too many yoga teachers)".
Or "there are so many yoga teachers" looks.
Also, that awkward silence of "good luck with that."
Maybe you relate?
Perhaps I'm here to write this blog to make myself feel better and 'namastely' roll my eyes at those remarks.
But I also want to give some concrete statistics that may debunk the myth that there are too many yoga teachers out there.
With an estimate of 250,000 – 650,000 certified yoga teachers currently in the US**, I can understand where that line of thought is coming from.
That range varies since some certified yoga instructors choose to not teach and simply take the training to deepen their practice.
It may be true that many yoga studios are filling up their spaces with yoga teacher training but that doesn't mean there's no more space for more yoga teachers, leaders, healers, and guides.
As a Public Health professional, I like to dig into the facts and statistics to let the data paint a better picture of things I want to make a case about.
Below are 5 statics and their references that may debunk the statement that there are too many yoga teachers:
1. Similar to yoga teacher training, cosmetology training is everywhere.
There are roughly 1,147,000 hairdressers/barbers, hairstylists, and cosmetologists in the US as of 2015. The Salon and Spa industry is much more established than the yoga industry in that they have state licensing but you get the picture. There is room for all types of hairdressers and aspiring hairdressers. We can use that same philosophy that there is space for all types of yoga teachers and aspiring yoga teachers. (1)
2. In 2016, there were roughly 37,000 law graduates.  
That's a lot of stressed-out future lawyers that will need yoga instructors to decompress, distress, and move their minds. Just sayin' 😉  (2)
3. I graduated with a Public Health degree from Columbia University in 2015, we had 600 graduates.
Multiply that by the top 44 Public Health programs in the US (there's actually way more and tons of online programs but we'll narrow it down), that's about 26,400 graduates in 2015 alone.
No one ever said to me "there are too many public health professionals out there" while I was in grad school. (3,4)
4. The CDC has estimated that only 21% of Americans meet the physical activity guidelines. That's about 80% of inactive Americans as of 2012 (the data is a little outdated but roughly speaking).
As practicing yogis we know that it is much more than just the physical aspect, but as a new practitioner, that's usually how most of us entered the yoga scene. 80% of Americans may need a yoga teacher and a leader to bring more body and mind awareness. (5)
5. Based on an estimated population of survey data and 245 million adults living in the US  as of 2016, there are 208 million non-yoga practitioners in the US. (6)
Enough said with that point.
With so much innovation, technology, and great ideas out there yoga instructors' careers don't necessarily have to be based out of a yoga studio.
Right now in 2020, COVID-19 is definitely showing the yoga community how adaptable and versatile we can be.
---
Are you just starting out your yoga business and need some guidance?

Find Clarity for Your Purposeful Business with this envisioning meditation for your ideal private yoga client
---
Notes & References:
**This number is based on an educational estimate using resource #6 plus looking at the Yoga Alliance Directory. 
https://probeauty.org/docs/blueprints/2012_Economic_Snapshot_Salon_Industry.pdf
https://www.americanbar.org/content/dam/aba/administrative/legal_education_and_admissions_to_the_bar/statistics/2016_law_graduate_employment_data.authcheckdam.pdf